TOWN & COUNTRY PLUMBING SERVICEs. PLUMBERS DRAINERS & GASFITTERS.

Phone: 0418 260 400

Page Under Construction!
For months now I've been asking Tony for some content for this page.
I won't hold my breath.
It's a good job I haven't got a bus to catch!
Services:
Blocked Drains





Services:
Blocked & Leaking Toilets




Services:
CCTV Camera Drain Inspections
No Digging Up Your Driveway or
Lawn to Investigate!



Services:
Tree Roots Cleared
Water Blaster Cutter


Services:
Crimped Plumbing Fittings
No more burned kitchen cabinets
and bathroom fittings!




Services:
Hot Water Conversions
Convert your hot water to gas or solar.
It's cheaper than you may think!




NORTH WESTERN SYDNEY
PLUMBERS & GASFITTERS.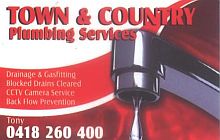 * About Us

Your Local




Plumbing Service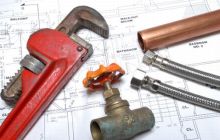 * Services

From a leaking tap
to a whole new house!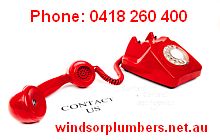 * Contact Us

Contact us 24/7
Emergency after
hours call out!